Early prog, pioneers of the andalusian rock. Fantastic cradle of musicians that where popular then like Gualberto or the collaboration in vocals of Manuel Molina who was a member of the duo Lole and Manuel afterwards. They also participated in the record "El Nacimiento del Rock en Andalucía" as a band and as Julio Matito alone. They were born in the hippie Sevilla of the late 60s with the aid of the producer Gonzalo García Pelayo. They split in 1972 and rejoined in 1978. They played in a series of rehearsals and in a TV show ("Musical Express"), Julio Matito dying in a car crash the day after, that broke the promising trajectory and aspirtations of this historic andalusian band (José Manuel Iñesta).
---
Smash was the first group of Gualberto, who recorded with him at first two albums, which are two Classic psych rarities which are now reissued on the Spanish Philips label. The style is according to some sources (I didn't hear those records yet) some westcoast inspired psychedelia with some Byrds and Buffalo Springfield similarities with early Moody Blues vocals and superb guitar work. Smash should be one of the first known examples in Spanish (or Andalousian) Music History to make a kind of progressive music with flamenco touches. Gualberto played here guitar and sitar, Manuel Molina sang (he was a member of Lole & Manuel). The early death of Julio Matito let to the breaking up of the group. (Gerald Van Waes)
---
In addition to their official discography a compilation of their works (1969-1978) has been released.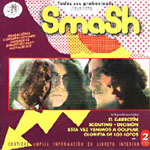 ---
Review of the record "Glorieta de los Lotos" (in spanish)
Review of the record "We Come to Smash this Time" (in spanish)