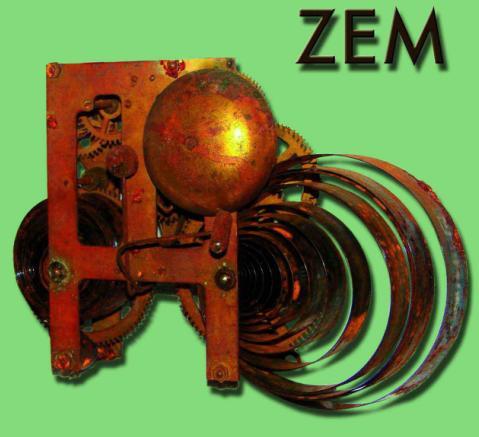 Track list:
Crono (03:45)
Fish-fiash (07:18)
Jimmy Magoo (08:02)
Pierna (07:01)
Estúpidos intrépidos (14:32)
Line-up:
XUAN ZEM: vibrafono
LUIGGI TUDERMIS: bajo electrico
RUBEN "MOL": bateria
RAFA KAS: guitarra electrica
JORGE MARTINEZ: guitarra sintetizador
JUAN FLORES: saxofon y flauta
JUAN MARTINEZ: voces en 3 y 5x
Este álbum supone la primera publicación oficial de Zem, agrupación afincada en Oviedo y liderada por un vibrafonista. Su música se mueve por terrenos próximos al jazz experimental, el rock progresivo y las nuevas músicas, presentando cinco complejas composiciones instrumentales plagadas de cambios de ritmo, estructuras intrincadas e improvisaciones sorprendentes. Participan, entre otros, varios componentes de la banda de rock Ilegales.
(Escrito por Eduardo García Salueña)
---
This is the first official effort by Zem, a band from Oviedo and leaded by a vibraphonist. Their music moves close to experimental jazz, progressive rock and contemporary music. It is made up of five complex intrumental compositions plenty of rhythm changes, intrincate structures and surprising improvisations. Some of the members of the rock band Ilegales play in this record.
(Written by~ Eduardo García Salueña)