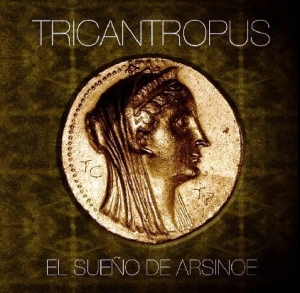 Track list:
1. El Sueño de Arsinoe [a. El Sueño - b. Ander?s Song - c. Cerca De Ti] (7:52)
Al Filo de lo Posible (5:02)
You're Me Pet Peeve (11:00)
Dionisio de Magnesia (6:17)
Manderley [a. Manderley - b. Interludio - c. La Balada del Invierno] (7:32)
Señoras [a. La Mujer Misteriosa - b. La Mujer de tu Vida - c. Para Todas Aquellas Chicas] (8:45)
En la Barca de Caronte (5:09)
Plan 9 From Outer Space [a. Luces en Noche - b. Algo que no es de Este Mundo - c. Eros y Tanna - d. Bela Lugosi - e. La Canción de la Lluvia - f. Vampirella - g. La Última Batalla] (11:56)
Hortaleza (4:49)
Line-up:
Manuel Manrique: keyboards
Pedro Párraga: bass and keyboards
Luis Hidalgo: drums and percussions
Daniel Denis: guitar
Javier L. Pardo: guitar and keyboards
+

Didi Arpaia (oboe in 1 and 8)
Abel Franco (guitar in 6)
Eduardo García Salueña (keyboards in 6 and 8)
Esperanza Martin (vocals in 1, 5, and 9)
Héctor Perpiñá (violin in 6)
Costanzo 'Coco' Laini (alto sax in 6)
Carlos Ramírez (keyboards in 6)
Olga Velasco (voice in 6)
Tricantropus vuelve al ruedo tres años después con un segundo disco que supone una progresión en términos de sofisticación compositiva y profundidad sonora. Una obra hermosa que queda como uno de los mejores aportes al progresivo sinfónico que se han hecho en este 2011, no sólo en España sino también en Europa. Tricantropus es sinónimo de elegancia dentro del discurso progresivo del nuevo milenio.
(Escrito por César Mendoza)
---
Tricantropus steps into the scene three years after the release of their firts album, with a second one that is a progression in terms of composititve sophistication and sound depth. A beautiful work that remains as one of the best contributions to symphonic prog not even in Spain but also in Europe. Tricantropus is synonym of elegance in the new milenium progressive discourse.
(Written by César Mendoza)