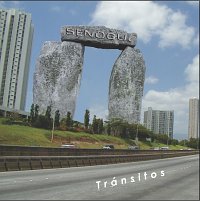 Track list:
Dr. Gull / Racionalidad
Tango Mango
Microcosmos blues
Travesía de las gaviotas
La mulata eléctrica
Line-up:
Pedro A. Menchaca: guitar, e-bow
Pablo Canaís "Cana": bass
Eduardo G. Salueña: keyboards
Israel Sánchez: lead guitar
Alex Valero "Danda": drums
La demo 'Tránsitos', grabada en vivo, reúne las primeras composiciones de Senogul, todas ellas instrumentales. Su difusión pretende ser una pequeña carta de presentación del grupo, previa a la edición de su primer disco, cuya grabación acaba de iniciarse recientemente.
El título, 'Tránsitos', evoca la continua evolución en el estilo de sus composiciones, cada una de ellas de un carácter bien diferenciado. Al mismo tiempo, los diferentes temas permiten disfrutar de una amplia gama de sonoridades entremezcladas, fruto de las diversas influencias aportadas por cada miembro del grupo. Así, se pueden encontrar pasajes melódicos de guitarra e-bow, tango llevado al prog, una fuga barroca, reminiscencias post-rock... para finalizar la grabación con 'La Mulata Eléctrica', una suite homenaje al rock sinfónico andaluz de los años 70.
(Escrito por Israel Sánchez)
---
The demo 'Tránsitos', recorded live, gathers the first Senogul compositions, all of them instrumental themes. Its distribution is meant to be the band presentation, previous to the edition of their first album, which recording has just recently started.
The title 'Tránsitos' ('Transits') recalls the constant evolution of the band compositions style, displaying each of them a well differenced character. At the same time, the different themes allow enjoying a wide range of blended sonorities, as a result of the different contributions from each band member. Thus, melodic e-bow guitar passages, tango-prog, a baroque fugue, post-rock influences.... can be found, ending the recording with "La Mulata Eléctrica", a suite tribute to the symphonic andalusian rock from the 70s.
(Written by Israel Sanchez)