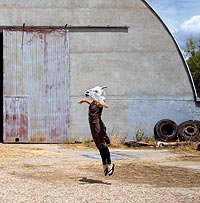 Track list:
The Nightstalker
Pijamas
La serpiente de Jade
Paraná
The black cat
Tales from Buanga
Gameland
Sopa colorá
Line-up:
Eduardo G. Salueña : keyboards, minimoog
Pablo Canalís : bass, percussions, vocals
Israel Sanchez : electric and acoustic guitar, tenor sax
Pedro A. Menchaca : electric and acoustic guitar, e-bow
Eva D. Toca : drums
+

John Falcone : fagot (2)
Alejandro M. Ares : cromatic accordion (3)
Juan Antonio Martínez : baritone and alto sax (3)
Iris Cárcaba : violin (3)
Rafael Yugueros : drums (3)
Marcos Mantero: synthesizers (4)
Chema Fombona: drums (4) and percussions (4, 8)
Theodosii Spassov: kaval (7)
Abelardo Freitas: abotronics (7)
Luis Cobo "Manglis": electric, acoustic, and 12-string guitar (8)
Pedro Ontiveros: sopranoi sax and flute (8)
El nuevo disco de Senogul condensa una renovada visión del rock progresivo y la fusión, con influencias tan diversas como el jazz más espiritual, el repertorio gamelán, el flamenco, el rock sinfónico clásico, la música para piano del siglo XIX, la Música Popular Brasileira o el Rock In Opposition. Cuenta, además, con invitados de excepción como el flautista búlgaro Theodosii Spassov (colaborador, entre otros, de Trilok Gurtu, Billy Cobham, David Peña Dorantes o el espectáculo Riverdance), Marcos Mantero (Imán Califato Independiente), Luis Cobo "Manglis" o Pedro Ontiveros (ambos procedentes del grupo Guadalquivir).
(Escrito por Eduardo G. Salueña)
---
Yet to be translated.
(Written by Eduardo G. Salueña)