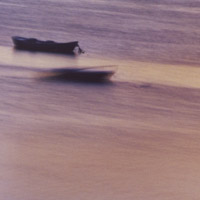 Track list:
Itamaraca
En permanente estado de vigilia
Mae Floresta:

La senda verde
El espíritu que nos inunda
Las almas inmóviles
La naturaleza de la vida

Swaranjali [Sangama Mantra]
Siete lunas [la canción del nomada]
De Nooijer
Terra-terreiro:

El mar nuestro de cada día
Un canto a los antepasados, la conmemoración
Reflexiones del día de mañana sobre una roca gris
Invocanción
El poder de la madre tierra

Lughnassad
Itamaraca [acordeón solo]
Line-up:
Pedro A. Menchaca : electric & acoustic guitar, e-bow, didgeridoo, vocals, effects
Pablo Canalís : bass, jew?s harp, thumb piano, zither, gralla, Tibetan bowls, percussions, vocals, effects
Eduardo G. Salueña : keyboards, piano, thumb piano, vocals, effects
Israel Sánchez : electric guitar, sitar, electronic tambura, vocals
Eva Díaz Toca : drums
+

Xavier María Foks : Percussions, clarinet, zither, jew?s harp, harmonium, vocals (2,3, 7)
Alejandro Martínez Ares : accordion (1, 9)
Guzman Arguello : flute, piccolo, soprano & alto sax, thumb piano, jew's harp, percussion, vocals (3, 4, 6, 7, 8)
David Menéndez : Electronic bass drum, ganzá (1, 5)
Dhana Lakshmi : mantra voice (4)
Aníbal A. Menchaca : Vocals (7)
Laura Pire: Vocals (7, 8)
Con este segundo trabajo, Senogul se aventura en terrenos desconocidos en los que la experimentación tímbrica, la improvisación, el azar, los folklores imaginarios y la sinestesia con tintes filosóficos se entrelazan. Una obra única, concebida en 9 movimientos, y que envolverán al oyente en un viaje hacia lo desconocido a través de numerosos y sugerentes evocaciones. Te atreves?
(Escrito por Eduardo G. Salueña)
---
Yet to be translated.
(Written by Eduardo G. Salueña)