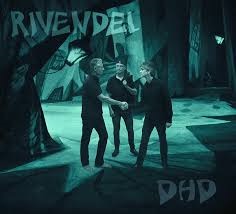 Track list:
Dicebamus Hesterna Die (20:50)
Cows on a Prairie Whilst Dark Cloud Slowly Thicken (12:00)
(Die Maschinerie von) Metropolis (10:53)
Line-up:
Toño Cruz : guitar - Oscar Belío : keyboards - Jose Mari Aguirrezabala / bass
Allá por el 2012 el cuarteto RIVENDEL se juntaban para ensayar improvisaciones, hasta que un buen día, su batería y percusionista Xabi Martínez dejó la banda, en ese justo momento pero ya como trío, decidieron grabar este disco compuesto tan solo de tres temas, con la ausencia claro está de la batería y percusión. Tres temas instrumentales con la electrónica (teclados) como protagonista, básicamente experimental y con un tono psicodélico y Space Rock, oscuro, caótico y melancélico.
(Escrito por Juan Mellado)
---
Back in 2012 the RIVENDELL quartet was joint to rehearse improvisations, and one day his drummer and percussionist Xabi Martínez left the band. From that very moment, but already as a trio, they decided to record this album composed only of three themes, with the absence os the drums and percussion. Three instrumental songs with electronics (keyboards) playing the main role, basically experimental and psychedelic tracks and Space Rock, dark, melancholic and chaotic.
(Written by Juan Mellado)