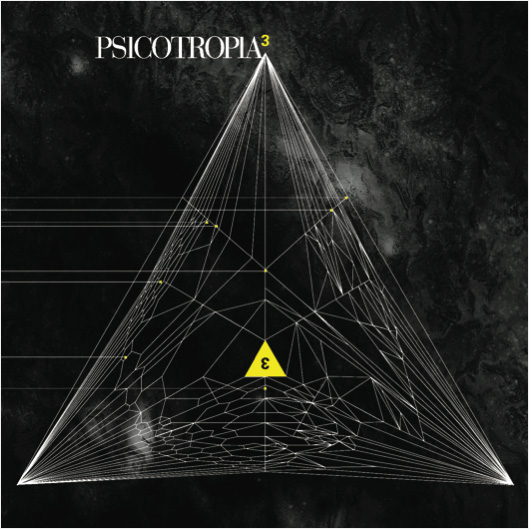 Track list:
Space Habanera (4:36)
Piedra (7:23)
Tinta (6:33)
Country Grog (2:07)
Patos (6:39)
Los Espectros De Kronstadt (5:53)
Oigo Silencio (6:43)
Bella (7.54)
Line-up:
Pablo Tato: guitar, vocals and metalophone
Jaime Mariscal: bass
Juan Llull: drums
+

Carlos Plaza, Adriana Plaza : keyboards
Micaela Tocina : violins
Aurora Aroca : cello
El nuevo registro fonográfico de Psicotropia nos los muestra en su potencia cúbica, o eso al menos indica el título del disco mismo: "Psicotropia3". Tato, Mariscal y Llull nos ofrecen un nuevo repertorio en el cual refuerzan muchos de los senderos sonoros marcados en el disco precedente "Grog" e indagan progresivamente en renovados desarrollos musicales desde allí. "Psicotropia3" es una muy lograda exhibición de la faceta más muscular del rock progresivo de nuestros días. Psicotropia se mantiene como un sólido referente de interés dentro de la escena rockera experimental española.
(Escrito por Cesar Mendoza)
---
The new record by Psicotropia shows us the band to the power of three, or at least that what the work title "Psicotropia3" tells us. Tato, Mariscal and Llull show us a new repertory in which they enhance some of the sound paths depicted in the precedent work "Grog" and they progressively search in renowed musical development starting from that point. "Psicotropia3" is a very nice exhibition of the more musculated version of nowadays prog rock. Psicotropia keeps as a solid reference in the Spanish experimental rock scene.
(Written by Cesar Mendoza)