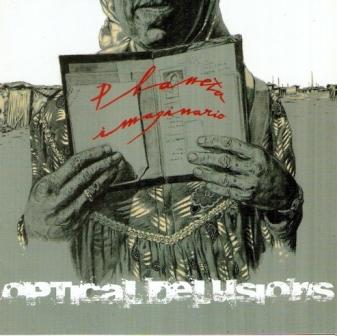 Track list:
Acciò Col.lectiva (10:16)
El jardí de les Vaques Alegres (9:40)
Xarramandusca (11:36)
Bona sort, amic meu (1:45)
Preludis Clinics del Home-gos

Angioma (3:50)
Bisturí (0:45)
Hemangioma (3:09)

Introducció de Llepavoreres (2:37)
Llevaporeres (8:00)
Elements imperfectes sobre quartz vermell

Element de la puresa imperfecte (4:15)
Element del art pur i imperfect (6:21)
Element de la persuasiˇ imperfecte (2:40)
El mar, i llavors sortÝ el solů i el reflexe (13:18)
Line-up:
Marc Capel : keyboards
Vasco Trilla : drums
Dimitris Bikos : bass
Alfonso Muñoz: Saxes and percussion
The-hien Trinh : trombone
Matsuko Sugao : trumpet
+
Sisu Corominas (tenor and alto saxes), Pablo Selnik (flute in 9-13), Guillem Serra Llorenc (french horn in 1, 2 and 5-7), Liba Villavecchia (tenor sax in 1 and 2)
Planeta Imaginario son una creativa banda de jazz-rock que toman influencias del Canterbury y las mezclan con un toque original, muy mediterráneo. Optical Delusions es el tercer álbum de la banda, con una gran sección rítmica compuesta de teclados, bajo y batería. A esto hay que añadir una sección de metales con trombón, trompeta y saxos alto, soprano y barítono. Hay 13 piezas en este disco, pero el conjunto es más que la suma de sus partes. Cerca de 80 minutos de música divididos en cinco bloques, casi todo ello compuesto por una Marc Capel muy inspirado. Un creativo trabajo de jazz-rock.
(escrito por Cuneiform Records)
---
Planeta Imaginario are a creative Spanish jazz/rock band that take influences from Canterbury and blend it with an original, very Mediterranean, feel. Optical Delusions is their their third album, with a great rhythm section made-up of keyboards, electric bass and drums. To this, a brass section hs to be added, including trombone, trumpet and alto, soprano, and baritone saxophones. There are 13 pieces in this album, but the whole is very much more than the sum of the parts. Close to 80 minutes of music, organized in 5 parts, almost all of them composed by a very inspired Marc Capel. A creative work of jazz-rock.
(written by Cuneiform Records)