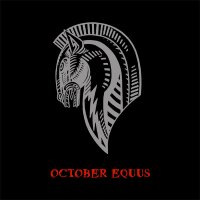 Track list:
Lupus in Fabula (5:22)
October Equus suite

Field of Mars (2:50)
Bigas (7:46)
Sacrifice 4:45)
Vestals 4:19)
Head of the winner 7:16)
End: On a lance 4:54)

Reliqua Tempora (3:42)
Minus Nihilo (4:49)
Hydra (3:59)
Line-up:
Ángel Ontalva: guitars
Victor Rodríguez: keuboards
Amanda Pazos: bass
Daniel Jiménez: drums
El primer disco de October Equus, de igual nombre que la banda, propone una aproximación al sonido RIO de bandas como Univers Zero o Henry Cow, con algunos tintes del Canterbury más sofisticado (Hatfield and the North, National Health), todo ello sustentado con frecuencia sobre una potente base rítmica de inspiración 'zeuhl'. El disco se compone de tres temas del teclista Víctor Rodríguez, una larga suite firmada por el guitarrista Ángel Ontalva y un tema firmado conjuntamente por ambos. El material de Víctor Rodríguez incide en la vertiente RIO más compleja, con frecuentes cambios de medidas rítmicas, contrapuntos angulosos, sinuosas melodías y atmósferas densas y opresivas. La suite firmada por Ángel Ontalva está integrada por seis temas de corte más ecléctico: guitarras 'a lo Fracture', abundantes polimetráas, rítmicas hipnóticas, contrastes entre momentos de lirismo desgarrado con episodios de extrema violencia, más atmósferas densas y opresivas... Grabado y mezclado por el grupo y luego publicado por el sello italiano Maracash records, el primer disco de October Equus retiene la frescura del sonido en directo de la banda en ese periodo.
(Escrito por Ángel Ontalva)
---
The first official release from October Equus (eponymous) poses an approximation to the RIO sound of bands like Univers Zero or Henry Cow, with touches of the most sophisticated Cabterbury (Hatfield and the North, National Health), based in a powerful 'zehul' inspired rhythmic base. The record is composed of three tracks by the keyboardist Víctor Rodríguez, a long suite by the guitarrist Ángel Ontalva and other composed by both. The stuff by Víctor Rodríguez is more RIO oriented, with complex changes in the rythm pattern. The suit by Ángel Ontalva está is composed of 6 more ecclectic parts: crimsonic (Fracture-ish) guitars, polimetrics, hypnotic rhythm and deep contrasts between violence and calmness. It was recorded and mixed by the band themselves and published by the Italian label Maracash records. The first October Equus record retains the fresh sound displayed by the band live in that period.
(Written by Ángel Ontalva)