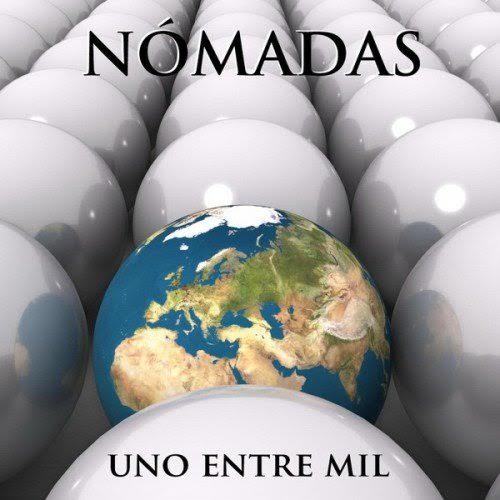 Track list:
1. Nóada 01:52
Savannah 05:00
Tuy 05:28
Checoslovaquia 04:09
Kasbah 04:52
Irak 06:14
Epílogo 05:32
Volveré 06:50
Eurovegas 03:17
Uno Entre Mil 08:06
Line-up:
Alberto Olmos : drums
Marcos Martínez : bass and guitar
Daniel León : keyboards
Napo Pérez : guitar and vocals
Eduardo Muñoz : guitar and vocals
+

José Ignacio Gutiérrez : audiovisuals, scenography, and backing vocals
José María Sagrista : sound engineering
Segundo album del grupo madrileño Nomadas que nos ofrecen un Pop Rock elaborado (Ahora le llaman Art Rock) con un cierto toque transgresivo, donde lo más progresivo se encuentra en la casi instrumental "Kasbah" y el tema también casi instrumental "Irak", tampoco esta mal "Eurovegas" y la que da titulo al álbum "Uno entre mil". Lo mas flojo bajo mi opinión es la parte vocal y las letras, siendo lo mejor las intervenciones de la guitarra.
(Escrito por Juan Mellado)
---
Second album of the band from Madrid Nomadas, who offer us an elaborated Pop Rock (now they call it Art Rock) with a certain transgressive touch, where the more progressive track is the almost instrumental "Kasbah" and "Iraq" (mostly instrumental as well). Also "Eurovegas" is quite well, and the one that gives its title to the album one thousand. The more loose in my opinion is the vocal part and the lyrics, being the best the interventions of the guitar.
(Written by Juan Mellado)