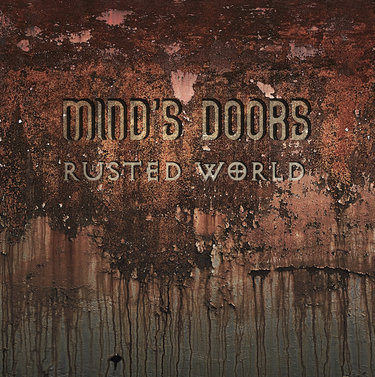 Track list:
Australis World I. Faded Sun - 09:32
Australis World II. Rusted World - 07:01
Our Breeders - 07:11
The Perfect Circle - 05:10
Rusted Love I. Silver Monsters - 05:20
Rusted Love II. Remembrance - 05:45
Melting into One - 07:49
Misty Eyed - 16:14
Line-up:
Jose Bernabeu : Drums
César Alcaraz : Vocals
Marcos Bevi&aacute : Keyboards
Alberto Abeledo : Guitar
Julio García : Bass
Mind's Doors vuelve con Rusted World (Mundo oxidado). De nuevo otro disco conceptual compuesto por ocho canciones, y cuya grabación tuvo lugar en los estudios Sacramento de Alicante. Para la mezcla contaron con la colaboración del productor Daniel Sáiz. Rusted World nos cuenta cómo en una tierra devastada y con una sociedad totalmente fragmentada, las relaciones humanas brillan donde menos te lo esperas. Rusted World es una historia de amor­drama al estilo de Romeo y Julieta pero en un ambiente futurista, inmerso en un mundo apocalíptico en el que una clase privilegiada de la humanidad se dispone a realizar un éxodo hacia un nuevo mundo llamado "Australis".
(Escrito por Mind's Doors)
---
Mind's Doors returns with Rusted World. Again, another concept album that comprises eight songs, and whose recording took place in Sacramento studies in Alicante. For the mix they had the collaboration of producer Daniel Saiz. Rusted World tells how a devastated planet and a totally fragmented society, human relations shine where you least expect it. Rusted World is a love-drama style story in the vein of a Romeo and Juliet novel, but in a futuristic environment, immersed in an apocalyptic world in which a privileged class of humanity is preparing to make an exodus to a new world called "Australis".
(Written by Mind's Doors)