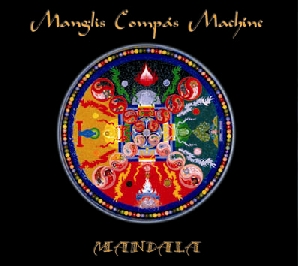 Track list:
-
Line-up:
Luis Cobo "Manglis" : guitars
Jesús Arispont : bass
Nantha Kumar : percussion
Jorge Pardo : sax
Polo Ort : keyboards
Manglis, co-fundador de bandas históricas del prog español como Gong, Smash o Gualdaquivir, siempre está a la vanguardia de la fusión del flamenco, el jazz-rock y el blues. Con un deje de world-music, puesto que aquí experimenta con las con melodías y armonías de la India, utilizando como base los ritmos flamencos.
(Escrito por José Manuel Iñesta)
---
Manglis, co-founder of historical spanish prog bands like Gong, Smash or Guadalquivir, is always at the vanguard of fusion among flamenco, jazz-rock and blues. In this work he presents a touch of world-music, experimenting with the melodies and harmonies of India, using the flamenco rhytmhs as a basis.
(Written by José Manuel Iñesta)