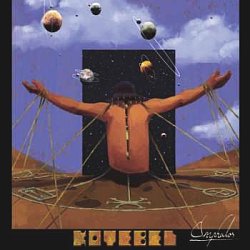 Track list:
Ra (13:10)
Excellent Meat (8:51)
Pentacle's Suite (30:11)

Prologue (1:36)
Sun Pentacle (5:20)
Mercury Pentacle (7:26)
Venus Pentacle (4:22)
Mars Pentacle (6:38)
Epilogue (4:49)

MetroMnemo (4:15)
Joropo (4:53)
Omphalos (6:57)
Line-up:
Carlos Plaza: keyboards
+
Omar Acosta: flute
César García Forero: guitars
Carlos Franco: drums, percussion
Jaime pascual: bass
Carolina Prieto: vocals
En "Omphalos", Kotebel continúa experimentando con la integración de una amplia variedad de estilos, dando origen a una propuesta ecléctica que abarca la música acadééica, el jazz, World music y música progresiva. Una diferencia importante en relación con a los discos anteriores, es que en "Omphalos" se consolida Kotebel como una banda. Carlos Plaza deja su faceta como multi-instrumentalista y centra su participación como ejecutante en los teclados. La totalidad de la batería y la percusión, acústica, es ejecutada por Carlos Franco. Jaime Pascual se ocupa de todos los bajos del disco, a excepción de MetroMmeno que es tocado por César García.
(Escrito por Carlos Plaza)
---
In "Omphalos", Kotebel continue experimenting with the integration of a broad variety of styles, delivering an eclectic proposal ranging from academic music, jazz, world music and progressive music. An important novelty with respect to former records is that in "Omphalos" Kotebel has grown to become a band. Carlos Plaza leaves his multi-instrumentalist side and focuses on his role as keyboardist. The whole drumming performance is played by Carlos Franco. Jaime Pascual plays the bass, except in MetroMmeno, by César García.
(Written by Carlos Plaza)