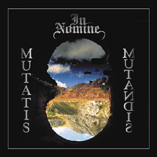 Track list:
Beetles of Concrete (9'56)
No Deal (8'05)
Spiritless fellow (5'57)
Panem & Circenses (8'46)
Snowly (2'46)
Le Cadavre exquis (15'39)
Line-up:
Andris Carrera: keyboards
Esteban Fragas: guitar, bass and vocals
Segundo Gonzalez: guitar, bass and vocals
Leonardo Pirez: drums and vocals
La música: una nueva banda descubierta por Musea! Esta joven banda española aparece en la escena progresiva internacional con un maravilloso album, con seis canciones (de entre 3 y 16 minutos), absolutamente impresionante y perfecto. In Nomine es una de las primeras bandas en combinar las influencias progresivas clásicas (Genesis y Yes sobre todo) con las neoprogresivas como Marillion y (bastante) IQ (de la era de "The Wake"). Se concentran en las lineas melodicas y proporcionan solos de guitarra liricos y pomposos, teclados refinados y sutiles, arpegios de guitarra y ritmos dinámicos. Un montón de ideas, nuevas harmonías y un gran talento. Hay que oírlo!
(de la web de Musea Records)
---
The music : a new band revealed by Musea! This young spanish band appears in the international progressive scene with a wonderful album, six songs (from 3 to 16 minutes) absolutely impressive and perfect. In Nomine is one of the first bands to really combine traditional progressive influences (Genesis and Yes above all) and neo-prog' ones like Marillion and, a lot, IQ ("The wake" era). Concentrated on worked-out melodic lines, the band also provides lyrical and bombastic guitar solis, refined and subtle keyboards, guitar arpeggios, syncopated or dynamic rythms. A lot of ideas, new harmonies, an incredible talent: it must be heard!
(from the Musea Records web page)