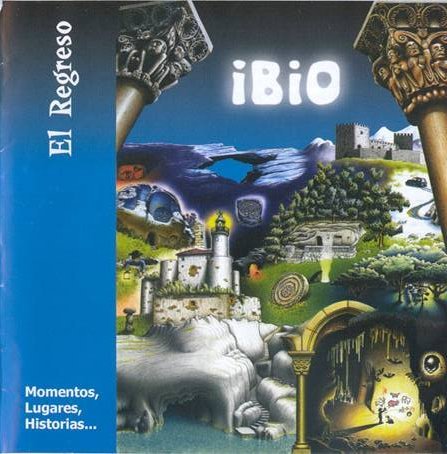 Track list:
El Regreso (6:00)
En El Monte (4:50)
Los Concanos (4:07)
A Dos Mil Años (5:12)
Estratagema (4:10)
Bosque Encantado (7:03)
Romería (4:30)
Mar Cantábrico (6:48)
De Altamira a Puente Viesgo (5:47)
Los Ventolines (3:46)
Cuevas de Altamira (7:40)
Line-up:
Ito Luna : drums
Mario Gómez Calderón : composition, keyboards and programming
Lily Alegría : bass and vocals
Adolfo D. Calderón : guitars
¡Nuevo disco a la venta!. Desde el pasado mes de Diciembre se encuentra a la venta el nuevo disco de IBIO. Un CD repleto de colaboraciones importantes que se reparten en once temas. Se trata de unas composiciones que fantasean sobre lugares y momentos históricos de nuestra tierra, Cantabria. Hablan de nuestros antepasados, de lugares mágicos y misteriosos. De mitología, de la naturaleza, etc. Y todo esto realizado con todo tipo de instrumentos, tanto tradicionales como electrónicos. Además, esta grabación, está realizada en sistema DTS 5.1 (sonido envolvente) para disfrutar más con esta sensación sonora. Tambien se incluye otro CD estéreo normal.
(Escrito por la propia banda)
---
New record on sale!. From last december the new Ibio record is on sale. A CD plenty of important collaborations scattered in eleven tracks. There are compositions dreaming on places and historical moments of our homeland, Cantabria. They talk about our ancestors, magic and mysterious lands. Also about mythology, nature, etc. Played through lots of instruments, both traditional and electronic ones. Moreover, this recording is made in DTS 5.1 system to enjoy more with this sound sensation. Also a standard stereo CD is included.
(Written by the band)