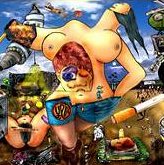 Track list:
Somnis Lliures
Camí Sonor
Coses que passen
La Corrupció de L'Eynor
Les Calderes d'en Pere Botero
Les Oliveres d'en Joan
El Patufet va amb Vespa
Tormentes de Diners amb Fang
Truita de Tortuga
Juga'mi
Line-up:
Xavier Parera: guitar and vocals
Oriol Arranz: guitar and vocals
Jordi García: bass
Raimon Iniesta: drums
Jordi Cols: Congas
+
Toni Mena: guitar
J.J. Caro: keyboards
Xavier Terrades: drums
Toni Buenavida: bass
Ana Manzana: vocals
Yannik: clarinet
Victor Nin: sythesized guitar
Somos un grupo que se creó en 1995 en el corazón del Penedés, entre viñedos, que nos han servido de inspiración y han hecho fluir nuestras mentes inquietas. Desde un principio nuestras influencias fueron el rock progresivo, el rock y el jazz fusión de los 70... A todo esto le llamamos Psicofusión. En 2001 realizamos junto a unos amigos "The Big Giorgettos History Show", una obra musico-teatral con guión propio amenizada con nuestra música y una historia de lo más original y peculiar que tuvo muy buena acogida las pocas veces que se realizú. En 2003 grabamos nuestra primera maqueta "GURTH". En 2008 sale publicado nuestro primer disco "Tormentes".
(Escrito por la propia banda)
---
We are a group that was created in 1995 in the heart of Penedes region, between vineyards, that have inspired us and made our minds flowing restless. Initially our influences were progressive rock, rock and jazz fusion of the 70s .. We called all this "Psicofussion". In 2001 we made a few friends together "The Big Giorgetto's History Show," a musical and theatrical work with hyphen brightened up with our own music and a really original and unique history that was very well received the few times that it was done. In 2003 we recorded our first demo "GURTH". In 2008, just edited our debut album "Tormentes". DEBUT ALBUM "Tormentes" NOW AVAILABLE.
(Written by the own band)