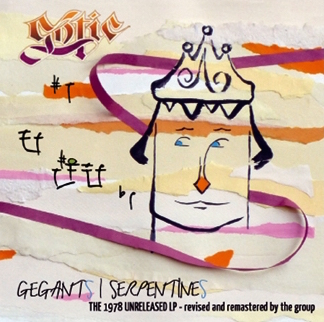 Track list:
Gegants i Serpentines - 3:17
Funky - 4:18
Suite - 6:22
La Noia Que Tenia Els Ulls Verds De Tant Mirar El Mar - 8:42
Record de Rosa 1:02
Carnaval - 2:12
Variacions - 7:14
Gotes de Gel - 5:28
Line-up:
Jordi Vilaprinyó : keyboards
Rafael Escoté : bass
Jordi Martí : drums
Agustí Brugada : flute
Eugeni Gil : guitars
En 1978 Gòtic grabó las maquetas del que había de ser su segundo álbum en unas sesiones grabadas en vivo en los estudios Gema-1 de Barcelona. La compañía discográfica del grupo las rechazó por ser "poco virtuosistas" (sic). El año 2013 el grupo recuperó las cintas originales y decidió digitalizarlas y publicarlas, con la ayuda inestimable de los técnicos originales, Jordi Vidal y Enric Català, sorprendidos por la calidad y frescura de las grabaciones de aquella época.
(Escrito por la banda)
---
In 1978 Gòtic recorded the demos of what was intended to be his second album, recorded in live sessions in Barcelona Gema-1 studios. The record company of the group rejected them as "little virtuoso". In 2013 the group retrieved the original tapes and decided to digitize and publish them, with the invaluable help of the original technical staff, Jordi Vidal and Enric Català, surprised by the quality and freshness of the recordings from that time.
(Written by the band)