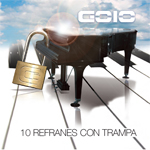 Track list:
Hoy por ti
Abril
Río Revuelto
Oyendo llover
Se perdió en Cuba
Fuego y cenizas
En el país de los ciegos
Dios ahoga
Cuando piensa el ladrón...
¿Quién le quitó el cascabel al gato?
Line-up:
Goyo Gutiérrez: keyboards and vocals
Ricardo Cantera: drums
Iñaki Egaña: electric bass
Ramón Escobar: electric guitar
Carlos Velasco: electric guitar in "Fuego y Cenizas"
Las canciones que componen "10 refranes con trampa" abarcan muy distintos estilos en lo que en conjunto podría denominarse "jazz-progresivo". Los temas son instrumentales y tienen partes arregladas e improvisadas, siendo el único vínculo que los une es el de sus títulos, todos ellos refranes, frases hechas o dichos populares de alguna manera transformados.
(Escrito por Goyo Guitiérrez)
---
The songs contained in this "10 refranes con trampa" range a very broad spectrum of styles that as a whole could be considered as "progressive-jazz". The songs are instrumental and have composed and improvised parts. The only link among them is the fact that their names are Spanish proverbs and sayings that have been transformed somehow.
(Written by Goyo Guitiérrez)