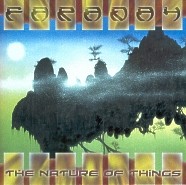 Track list:
The Nature of Things, part 1 (25:00)
The Nature of Things, part 2 (20:00)
Line-up:
Miguel Ángel Ferro: keyboards and programming
Este disco ha sido compuesto, interpretado y producido por Miguel Ángel Ferro. Miguel es uno de los creadores del proyecto Abando y nos ofrece este trabajo grabado en solitario, que como bien definen en la revista MARGEN es "...música instrumental potente, a ratos épica, de tímbricas electrónicas y contenido progresivo y cambiante...". En definitiva, un trabajo personal de teclados donde se ha pretendido la realización de unos temas entretenidos pero no exentos de complejidad. La portada es del webmaster de esta sede, José Manuel Iñesta.
(Escrito por Miguel Angel Ferro)
---
This album has been composed, performed and produced by Miguel Ángel Ferro. Miguel is one of the creators of the Abando project and offers us this solo work, that is (as defined in the Margen magazine) "... powerful instrumental music, sometimes epic, of electronic timbres and progressive and changing content...". In few words, a very personal work based on keyboards where the relisation of entertained but not rather simple tracks has been pursued. The artwork was made by the webmaster of this site, José Manuel Iñesta.
(Written by Miguel Angel Ferro)