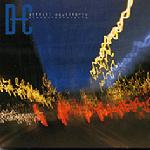 Track list:
Vidas son horas
El angel exterminador
Penumbra
Dynamite
El destino devenir
Ruptura3
Jaqueline
Zakarit mena al maghreb
Trajecto V
Bypass
Simétricanarquia
Line-up:
Alberto Díaz: guitar
Luis Rodríguez: drums and effects
Joan Francisco: bass
Esta gran banda de Barcelona vuelve con su cuarto disco. "Trayecto", editado hace tres años por Musea, recibió la aclamación de la crítica, pues la banda fue capaz de capturar el espíritu de Kingt Crimson con real intensidad e inteligencia musical. "Simetricanarquia" revela una evolución en el enfoque musical de Dificil Equilibrio. La influencia crimsoniana aún está presente, pero a lo largo de estas 11 piezas, fundamentalmente instrumentales viajan por otros mundos instrumentales, a veces cercanos a Gong (una versión impresionante de "Dynamite, por ejemplo), o Robert Wyatt, con otros momentos acústicos llenos de paz, incluso ocn influencias hispánicas. Llevan invitados al violoncelo, trompeta, saxo, entre otros. Dificil Equilibrio toma posiciones entre las mejores bandas contemporáneas del progresivo, pues su talento y virtuosismo son excepcionales. No hay que perdérselos.
(de la web de Musea Records)
---
This talented band from Barcelona (Spain) is back with its fourth album. "Trayecto", released three years ago by Musea, received critical acclaim, as the band was able to capture King Crimsons spirit with a real intensity and musical intelligence. "Simetricanarquia" reveals an evolution in Dificil Equilibrios musical approach. King Crimsons influence is still present, but through these 11 mostly instrumental pieces, they travel through other musical worlds, sometimes near Gong (an impressive cover of "Dynamite" for example), or Robert Wyatt, with also some peaceful acoustic moments, and spanish folk influences. With guests on cello, trumpet, sax, among others, Dificil Equilibrio takes place among the best progressive contemporary bands no less!-, as their talent for composition and their virtuosity are exceptional. Dont miss that band!
(from the Musea Records web page)