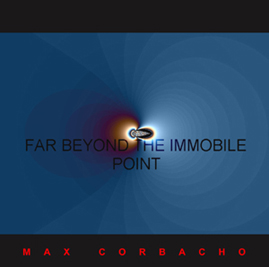 Track list:
Primigenial Frontier
Predawn Darkness
The Threshold
Invisible Jewell
The Great Sparkling Dome
Soundless Sign
Far beyond the Immobile Point
Line-up:
Max Corbacho: solo keyboardist
Utilizando influencias del mejor de ambiente flotante, desde Steve Roach a Robert Scott Thompson, Max Corbacho pone su sello personal sobre este género en su segundo CD, una sólida continuaci&oacute,n de su muy buen CD "Vestiges". Se ha prescindido de los elementos tribales esta vez, dejando un paisaje sónico más disperso y, en ocasiones, oscuro. De las luces trémulas y suaves de "Primigenial Frontier" hasta las vibraciones de "Predawn Darkness", la atmósfera en general es dramática, aunque serena y bella. "Predawn Darkness" en particular recorre la fina línea entre la oscuridad y la belleza de forma admirable. Los fans de Roach pueden recordar su épica "The Magnificent Void." Su profundidad es de primera y su expansividad es palpable. "The Threshold" tiene un carácter metálico, pero no chillón, con ricos matices tonales. Un fondo de extraños ruidos realmente refuerzan la atmósfera. De todas formas, No todo es oscuridad y cavernas. "Invisible Jewell" tiene elegancia y calidez, aunque está fuertemente arraigada en los terrenos de la "new age". "The Great Sparkling Dome" es un tema más luminoso en determinadas partes, pero tendente al minimalismo sónico, volviendose casi silencioso aquí y allá. Muy calmado y con los tintes de oscuridad correctos. "Soundless Sign" es, como su nombre indica, la pieza más tranquila, aproximándose a la suave quietud. Finalmente, el tema de 20 minutos que da título al disco nvuelve las cosas perfectamente, cambiando lentamente y flotando hacia una conclusion chispeante y espaciosa.
(Escrito por Max Corbacho)
---
Drawing on influences of the best of floating ambience, from Steve Roach to Robert Scott Thompson, Spaniard Max Corbacho places his own stamp on the genre with his second CD, a solid follow-up to his very good "Vestiges" CD. The tribal elements have been stripped away this time around, leaving a sparser, sometimes darker sonic landscape. From the high soft shimmers of "Primigenial Frontier" to the low rumblings of "Predawn Darkness," the mood throughout is haunting and dramatic, yet serene and beautiful. "Predawn Darkness" in particular walks the tightrope between darkness and beauty quite admirably. Roach fans will at once think back to his epic, "The Magnificent Void." The deep, low drones are first rate, and the feeling of expansiveness is palpable. "The Threshold" has a metallic character, almost but not quite shrill, with rich tonal qualities. An undercurrent of strange percolating noises really enhances the atmosphere. Not all is darkness and crevasses, however. "Invisible Jewell" has elegance and warmth, though it is still rooted firmly in ambient rather than new age realms. This is perfectly soothing, comparing favourably with Thompson's excellent work, "The Silent Shore." "The Great Sparkling Dome" is also a bit brighter in parts, but still tends toward minimal broad strokes of sound, becoming almost silent here and there. It is very calming and relaxing with just the right tinges of darkness. "Soundless Sign" is, as it implies, the quietest track, approaching soft stillness. Finally, the 20-minute title track wraps things up perfectly, slowly shifting and drifting to a sparkling, spacious conclusion.
(Written by Max Corbacho)