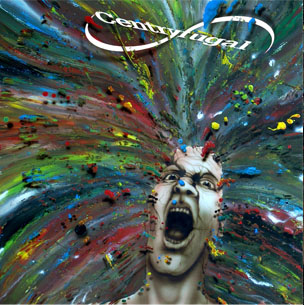 Track list:
No Blues
Bulerida?
Funky Last
Zartenazoo
Cabo de Gata
S.N.V.
Memories
White Trash
Fase
Nariz de Sinatra
Bad Attiude Blues
Sombra de Poder
Line-up:
Tato Macias : drums and percussion
Ignacio Cintado : bass
Kike Romero : guitars
Jorge Gómez : guitars
+

Dr. Amoxa : keyboards
Amir Haddad : ethnic instruments
Los Cantarote Brothers : claps and percussions
Antonio de los Ríos : vocals
Moisés Hergueta : artwork
Este disco es una gran obra, donde se lucen las guitarras, que destacan y llevan el peso de la música. Todos los temas son instrumentales menos el último, que me recuerda al Mezclalina de Tabletom. Muy buen trabajo de bajo y percusión. Introducen sonidos de la vida cotidiana en los temas al modo de Pink Floyd. Hard, blues de gran nivel, en momentos metal, con la dificultad de establecer el límite, el paso de uno a otro. Ritmos flamencos. El segundo tema empieza con cante. Jazz, hard, rock, blues, flamenco, metal, todo se "centryfuga" y da como resultado este maravilloso disco. Muy recomendable. Puede adquirirse en su web.
(Escrito por Rafa Rodríguez)
---
This is a great work, where guitars lead their role in the music. All the tracks are instrumental but the last one, that reminds me of "Mezclalina" from Tabletom. Very good bass and percussion work. They introduce all-day sounds, kinda Pink Floyd. Hard, high-level blues, sometimes metal, with dificulties for me to establish the transition point. The second track starts with flamenco singing. Jazz, hard, rock, blues, flamenco, metal, everything is "centryfuged" giving this wonderful record as a result. Highly recommendable. It can be puirchased through their web page.
(Written by Rafa Rodríguez)