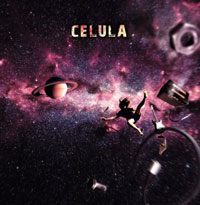 Track list:
Escalera mecánica uno 03:12
Apophis 02:57
Ciudad de Dios 05:24
Viaje a Saturno 06:28
Alcatraz 04:20
Cansado 04:44
El estado gaseoso de las cosas 03:43
Canícula 06:02
Escalera mecánica dos 06:34
Line-up:
Ángel: vocals
Corda: guitar, vocals and FX
Txato: bass and fuzz
Filo: drums and percussion
CELULA es una banda española de rock que mezcla elementos propios del rock progresivo, stoner, post-hardcore o incluso el metal, con influencia de grupos tan dispares como Tool, Kyuss, The Mars Volta o King Crimson, pero cantando en castellano.
Nos complace comunicaros que el primer disco de CELULA ya está en esta dimensión. Para los que deseen hacerse con él, hay varias vías: para pedir el disco por internet (te lo enviamos por correo): http://www.lacasaconruedas.com/celula/ (si el pago se realiza por transferencia, el precio son 5 euros; si prefieres contrarembolso; 5 euros + 2,95 euros de gastos de envío) Para envíos fuera de España, contactar con la banda en celularock@gmail.com
Para descarga directa desde Megaupload: http://www.megaupload.com/?d=MWIE67ZJ
Para descarga directa desde Bandcamp: http://celula.bandcamp.com/
(Escrito por la banda)
---
CELULA is a spanish band mixing elements from prog rock, stoner, post-hardcore or even metal, with influences from so diverse bands as Tool, Kyuss, The Mars Volta or King Crimson, but singing in Spanish.
We are pleased to announce that our first record is now available in this dimension. For those who want to get it, there are a number of ways to do it: to order it on the Internet (we will send it to you vie e-mail): http://www.lacasaconruedas.com/celula/ (if you pay it by transfer the price is 5 euros). If you want it from away, please contact the band at celularock@gmail.com
For direct download from Megaupload: http://www.megaupload.com/?d=MWIE67ZJ
For direct download from Bandcamp: http://celula.bandcamp.com/
(Written by the band)