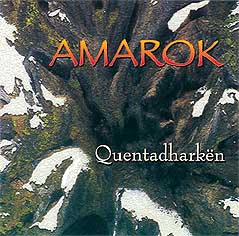 Track list:
Hsieh (7:30)
La Última Expedición (4:59)
Encantamiento (2:56)
Tierra Boreal (9:03)
La Espiral (7:53)
Alumbrado (1:37)
Quentadharken (21:31)
i) Los Orígenes
ii) Los Hechos
iii) La Batalla
iv) Final
v) Coda

+ Bonus tracks
Line-up:
Robert Santamaria: Teclados, saz en Re, saz en La, guitarra de 12 cuerdas, Kanun, dulcimer,charango, autoharpa, bajo, acordeon, glockenspiel, marimba, derboukas pandero, talking drum, pandereta, krabs,kalimba, vibraslap, cucharas griegas, chiquitsi, crotalos, palo de lluvia, palmas.
Victor Estrada: guitarra espan~ola
Manel Mayol: flauta travesera, didgeridoo, coros
Mireia Sisquella: saxo soprano
Carlos Gallego: Guitarra electrica, voz
Alan Chehab: bajo
Pau Zañartu: bateria
Marta Segura: voz principal
+
Robert Abella: violin
Miguel Angel Ortin: saxo tenor, clarinete
Víctor Estrada: guitarra española y theremin
Luis Blanco: vibraslap
Desde el principio se nota que esta banda catalana ha empezado ya a hacer interesantes composiciones sinfónicas con una combinación de folk y diversas influencias étnicas (oriente medio y otras), desarrollando un estilo propio a partir de su disco Gibraara, con un punto álgido en el CD "Tierra de Especias". Con el siguiente, "Mujer Luna", pusieron mayor atención en el campo del rock progresivo, comenzando a hacer composiciones más sinfónicas. Esto ha llevado a esta composición un poco más progresiva.
El album es ahora definitivamente más sinfónico. Como antes, sus composiciones son muy variadas, usando instrumentos como la flauta, bajo, instrumentos de oriente medio (percuisón, santour, saz), violón, saxo, kanun, charango, marimba, etc. Hay mucha más dosis de teclados dque de guitarra, que les dirige a veces hacie un género mucho más melódico. En definitiva, un otro buen álbum que interesará a la audiencia sinfónica más aún que los anteriores.
(Escrito por Gerald van Waes. En progressive.homestead.com)
---
I noticed that this (Catalonian) band Amarok started making interesting symphonic compositions with a combination of art folk and various ethnic (Middle Eastern and other) influences, developing into a very unique style around the time of Gibraara, with a highpoint CD of Tierra de Especias. With their follow-up, 'Mujer Luna', having received more attention from the progressive rock field, they also started to make more symphonic rock compositions. This resulted with this release in a bit more loaded symphonic rock style.
The album now is definitely more composed as symphonic rock. Like before, most compositions alternate very much, using instruments like flute, bass, middle eastern instruments (percussion, santour, saz) violin, sax, kanun, autoharp, charango (-a South American guitar-lute-), marimba... But more than one composition has much more keyboards and electric guitars than before, which directs them only a bit more into the more melodic neo-symphonic genre. Another nice album which might interest symphonic rock listeners even more.
(Written by Gerald van Waes. From progressive.homestead.com)