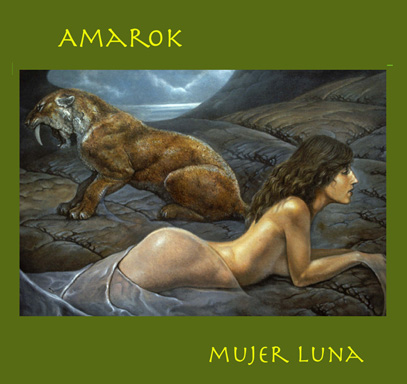 Track list:
Mujer Luna (4.06)
Donde esta mi amor (3.37)
En el Parque (6.48)
Arabesca en 4 nov. (9.06)
Suen~o suen~os (8.28)
Duo para tabla y saz n-1 (1.54)
Nana para el hijo de la tierra (2.13)
Tierra Austral
i) Sobre las dunas de lava
ii) La Laguna Arco Iris
iii) Patagonia Infinita
iv) Selva de Araucarias
v) La nutria y el mar

Donde estas mi amor (conclusion)
Line-up:
Robert Santamaria: Teclados, saz en Re, saz en La, guitarra de 12 cuerdas, Kanun, dulcimer,charango, autoharpa, bajo, acordeon, glockenspiel, marimba, derboukas pandero, talking drum, pandereta, krabs,kalimba, vibraslap, cucharas griegas, chiquitsi, crotalos, palo de lluvia, palmas.
Victor Estrada: guitarra espan~ola
Manel Mayol: flauta travesera, didgeridoo, coros
Mireia Sisquella: saxo soprano
Carlos Gallego: Guitarra electrica, voz
Alan Chehab: bajo
Pau Zañartu: bateria
Marta Segura: voz principal
+
Robert Abella: violin
Jose Walero: tabla
Miguel Angel Ortin: saxo tenor, clarinete
Candela Casas: voz de nin~a en "Parque"
Eva Zapata y Cristina Morales: coros en "Mujer Luna" y "Donde estas mi amor"
Esta nueva propuesta musical pone a la mujer como hilo conductor de los relatos que conforman este álbum. Desde mujeres sometidas que poseen un riquísimo mundo interior que ofrecer (Mujer Luna), hasta la infructuosa búsqueda de un parque por una niña en medio de una Hiroshima arrasada por la bomba atómica (En el parque), pasando por la lucha y los sueños en un mundo nada complaciente (Sueño sueños), el desamor y la pérdida (Dónde estás mi amor) y el hermoso regalo de una madre a su hijo (Nana para el hijo de la Tierra). Musicalmente este trabajo representa una nueva frontera en la constante exploración sonora y estilística del grupo, en el que temas con un aroma claramente mediterráneo y medieval (con una tímbrica e instrumentación riquísima), se fusionan con otros de marcado carácter de lo que se dió por llamar rock sinfónico en los años 70, aunque igualmente ricos en instrumentación y nada añejos en su tratamiento.
(Extraído de la página web de Amarok)
---
In this CD the Amarok's proposal gives women the protagonism of the tales that fills the album. From submites women with a wonderfull inner world to offer ("Moon woman"), to the usseless search of a park by a child in Hiroshima after the atomic bomb ("In the park"), passing by the fight and dreams in a non complaisance society ("Dreaming dreams"), the nostalgy of love ("Where are you my love"), and the lovely gift of a mother to her son ("Lullaby to the son of the Earth"). Musically this album represents a new frontier in the constant timbrical and stylistic evolution of the band.
(Taken from the Amarok's web page)