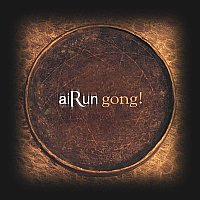 Track list:
Gong!
Interludi
Satèl.lit
Jocs
Amalgama
Fripp2
Essències
Atlàntida
Thalassa
Line-up:
Carles Sucarrats: guitar
Jordi Bramon: guitar
Dani Bellver: guitar
David Güel: drums
Óscar Jiménez: piano and keyboards
Àlex Quintans: bass
Lluis Gratacós: vocals
+ Mariona Malé, Lluís Gratacós y Laura Plasencia
GONG! es el segundo trabajo de la formación gerundense aiRun. Salió a la luz en abril de 2005 después de 4 años de haber editado su álbum debut "Apeiron". Tan largo intervalo ha hecho de GONG! un esperadísimo trabajo entre los seguidores de la banda, que en ese tiempo tuvo que superar varios cambios en la formación, y las consecuentes readaptaciones. Pero la espera ha valido la pena. GONG! se ha convertido en un trabajo con innumerables matices, muestra de la evolución y madurez de la banda, que viaja siempre hacia nuevos sonidos y sensaciones. Así, se puede escuchar desde un tema con 2 únicas guitarras acústicas, al tema final de piano solo, pasando por el inevitable rock vanguardista y experimental de "aiRun", que a parte de componer temas instrumentales, ha estrenado en GONG! la voz de Mariona Malé como cantante de la formación.
(Escrito por Oscar Jiménez)
---
GONG! is the second effort of the outfit from Gerona aiRun. It was released in April 2005 4 years after publishing their debut album named "Apeiron". This long lapse has made this GONG! a long awaited work among the band's fans. aiRun has been through a number of changes in the line-up. But it was worth the wait. GONG! has become a work plenty of different approaches, showing the evolution and maturity of the band, always traveling towards new sounds and sensations. Thus, tracks played by a couple of acoustic guitars, or piano solo, or the avant-garde experimental rock of aiRun. This time, in addition to the instrumental tracks, the voice of Mariona Malé has been introduced in GONG! as singer.
(Written by Oscar Jiménez)